Jessica Land
INSTRUCTIONAL DESIGN & FACILITATION, CREATIVE ENGAGEMENT LAB
Jessica is a facilitator of learning experiences that bridge the arts, the natural world, schools, self, and community. Her commitment to engaging learners in authentic creative expression is rooted in her own explorations with visual arts, dance, the natural world and world cultures. She is a certified teacher with fifteen years experience teaching in alternative and traditional school settings. She earned her M.A. in Experiential Education at Prescott College in Prescott, AZ and her B.A., Magna Cum Laude in English/Writing and Fine Arts, at St. Lawrence University in Canton, NY. Nature continues to be her most influential muse and teacher. 

Mari Livie
INSTRUCTIONAL DESIGN & FACILITATION, CREATIVE ENGAGEMENT LAB
Mari Livie has been a teaching artist in Lane County schools since 1999. She creates and teaches arts workshops for schools, city programs, and healthcare facilities. Working with these various organizations brings Mari into contact with a diverse population of blossoming artists and educators. She's generated arts workshops for children with autism, the elderly, incarcerated youth, homeless youth, alter-abled adults, English language learners, teachers, and war veterans. Mari pursues her own arts practice on days she is not teaching. You can see her work at marilivie.com and hear her work on soundcloud.com/thankyou-einstein.

Nate Beard
INSTRUCTIONAL DESIGN & FACILITATION, CREATIVE ENGAGEMENT LAB
Nate K. Beard is an Integrated Learning Specialist, drama teacher, and professional development provider, currently building teacher and administration efficacy in arts integration. His work focuses primarily on social and emotional health including skills in communication, collaboration, metacognition, and metaphorical thinking. Built from a background in tragedy-based drama therapy, he has developed and co-developed curriculum and teaching practices that provide opportunities for meaning-making for adolescent students. He has trained over 100 educators in process drama techniques.

Dr. Ross Anderson
PROJECT DIRECTOR & PRINCIPAL INVESTIGATOR
Ross is a designer, researcher, and strategist in the education field working to harness creative development and embodied learning potential of educators and students, alike. His work aims to create equitable, engaging, and aspirational learning environments and to understand the systemic and individual factors that play a role. His 12 years of leadership and innovation in the education field emerges from personal experience in architectural design and 15 years practicing the art of Afro-Brazilian Capoeira. Ross earned his B.A in architecture at Yale University and his Ph.D. in educational leadership at the University of Oregon. He has led large research and development projects, publishing research on creative development, educational change, and arts integrated teaching and learning in numerous journals and book series.
Collaborators

Dr. Jen Katz-Buonincontro
RESEARCH CO-INVESTIGATOR DREXEL UNIVERSITY
Jen teaches, studies and publishes on creativity and learning. As associate dean of research at Drexel University's School of Education, she teaches several course in creativity and innovation. Her research seeks to inspires children and adults to learn, think and act in creative ways that optimizes their academic and professional success. Her current studies focus on creative thinking and problem solving. Her research aims to build socio-cognitive theories of creative agency to advance educational research.

Dr. Tracy Bousselot
CO-INVESTIGATOR + MAKESPACE PARTNER
Tracy enjoyed seven years as a middle and high school science teacher, instilling in her a passion for improving instruction and access in STEM/STEAM fields. Her interest in and experiences with the innovative use of technology in education have led to a strong interest in the development and utilization of best practice in educational technology. Tracy has been involved in program evaluation and research projects at Inflexion that include elementary science professional development, school level case studies of best practice in college/career readiness, postsecondary online education, and proficiency-based teaching and learning.

Gabriella Schuhe
PROGRAM COORDINATOR + RESEARCH ASSISTANT
Gabriella is excited by learning and enjoys spending time understanding the varied components that build people as individuals. Her greatest joy is knowing other people and letting people know her. She earned her B.A. in Social and Behavioral Sciences from California State University, Monterey Bay, where she applied statistics and economic theory to understand social phenomena. Gabriella spends her free time exploring the world around her, reading, and driving windy roads.

Jordan Bentz
MEDIA DESIGN & MARKETING
Jordan has worked as a UI/UX designer, documentarian, and creative director. More recently, he decided to return to his first love: making documentaries. Recently, he's focused on helping non-profits and small business throughout the Pacific Northwest build their brands and tell their stories.
MAKESPACE INSIGHTS
on confidence
"This was an opportunity to try new ideas, to actually take the time to reflect, think about students and potential creative resources. These reflections have given me more confidence in my own ability to be creative"
makeSPACE Teaching Partner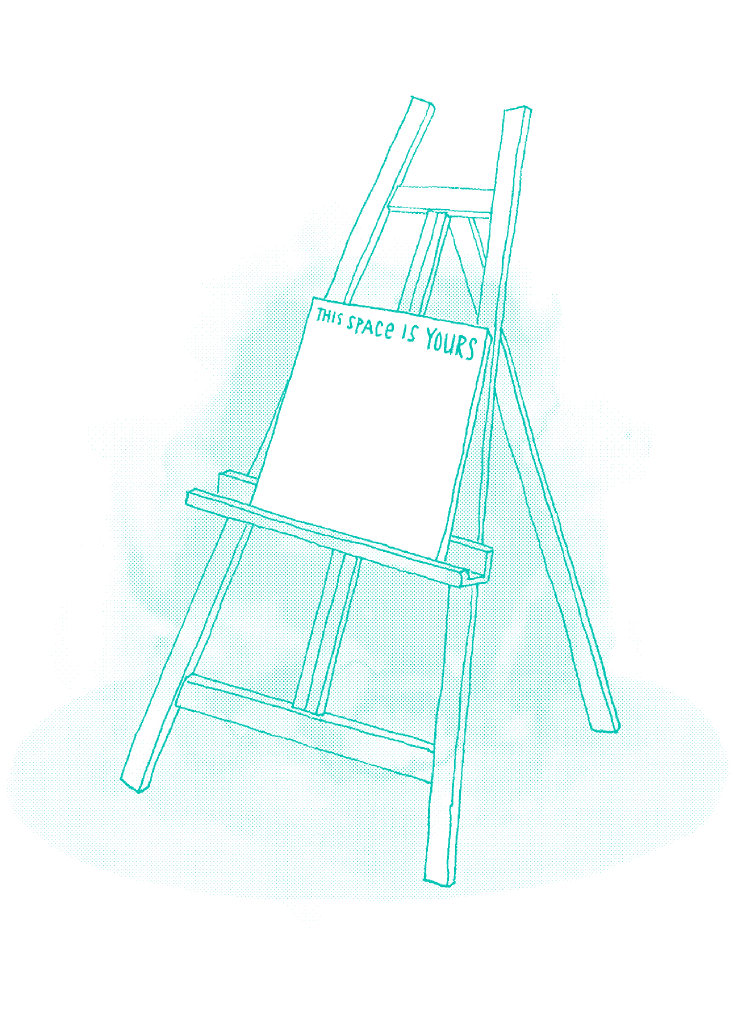 Drawing by makeSPACE Teacher Michael Dodson